Joomla 4.1&3.10.6の新しいリリース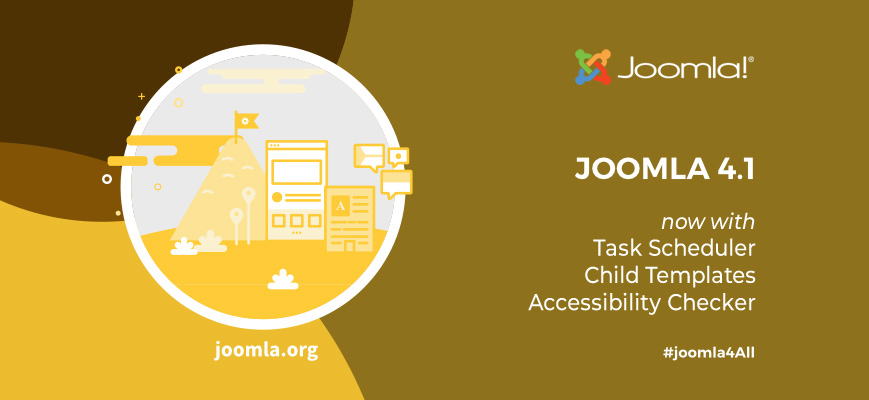 リリース日: 2022年2月15日
リリース内容:
Joomla 4.1.0 ステーブルバージョン
Key Feature:
1.Tasks Scheduler
Do you have tasks you do time and time again? Or tasks for the future which you must not forget to do? Now you can automate them with the new Task Scheduler.
Joomla extensions will be able to take advantage of the new feature, giving you the power to time work and run it on a regular basis. Even if your website host does not allow cron jobs, we have got you covered by letting your visitor trigger the execution in the background.
And, of course, developers will be able to take advantage of the core scheduler to automate their extensions, taking their applications to a new level of productivity.
The new Task Scheduler comes in addition to the existing Workflows Manager and Web Services introduced in Joomla 4.0. This unique combination adds a tremendous potential to Joomla as a Web applications and automation framework.
2.Taking overrides onto the next level with Child Templates
With child templates, you can create different instances of a template with one click, changing only the lines of code you need to, it is simple and effective. In the past, personalizing template parts for specific pages involved several technical steps, which are now integrated.
A child template works exactly the same as any other template except that it uses all the code, PHP, CSS and JavaScript of its parent template.
At its most basic level, it only contains a single file, templateDetails.xml, as everything else is inherited from the parent.
Now with a child template, you can customize an override or CSS and keep the parent template as clean as the day your template provider supplied it. This also simplifies your maintenance by allowing you to keep your template up to date, while preserving your changes.
There is no limit on the number of child templates that you can create so each one could have different layouts and styles.
3.Accessibility Checker Jooa11y
Jooa11y - The Joomla accessibility and quality assurance tool
Every visitor unable to view your page is potentially a lost customer. Joomla 4's main focus is accessibility, and now we enable authors to create great accessible content with Jooa11y: It visually highlights common accessibility and usability issues.
Ideal for busy content creators, Jooa11y identifies many errors and warnings, providing help and advice on how to fix them.
Jooa11y highlights content issues and is integrated into the content authoring experience.
It has never been so easy to create an accessible website.
4.Syntax Highlighting in the integrated editor
Sometimes the "What you see is what you get" (WYSIWYG) is not enough and you have to switch to the HTML code view.
Now with Joomla! 4.1 all the code is syntax highlighted in the built-in TinyMCE editor. This will make it so much easier to read all of your HTML tags and CSS classes. Markup is clearly displayed.
Additionally, you can search and replace directly in the HTML code view.
5.Inline Help
After we cleaned up a lot of redundant descriptions In Joomla 4.0 we now implement the ability to toggle on/off detailed inline help when needed. So far, this feature is only available for the global configuration settings but can now be extended to any area and also used by Joomla extensions developers.
You can decide if you need support and toggle the extra help on and off. When you are comfortable with how a particular area works, you can turn inline help off and get that minimalist look back.
注意事項:
Joomla 4.xはまだ実用で使うには完成度が低いのであと半年から1年ほど様子を見たほうが得策である。Joomla 3.0がリリースされた時もバグが多くて使い物にならなかった。バグ修正とエクステンションの4.0対応で時間がかかる。実用サイトはJoomla 3.10.xで対応し、Joomla 4.1.xはJoomlaの新しい機能になれるための実験サイトで使用することをお勧めする。
What's in 3.10.6?
Joomla 3.10.6 addresses several bugs, including:

Bug fixes and Improvements
Visit GitHub for the full list of bug fixes
ダウンロード先:
既存Joomla 3.xユーザーの方
サイト管理画面にログインしてJoomlaシステムの更新アイコンをクリックしてシステムの更新をして下さい。
システムの更新をする前に、必ず、現在のシステムのバックアップ(DBを含む)をして下さい。
新規ユーザーの方
Joomlaじゃぱん(http://www.joomla.jp)で日本語版パッケージがダウンロードできるようになりましたら、そちらから最新システムをダウンロードして下さい。
英語版のダンロード先は、こちらです。
お問合せフォーム