Joomla 3.10.12 & 4.3.3の新しいリリース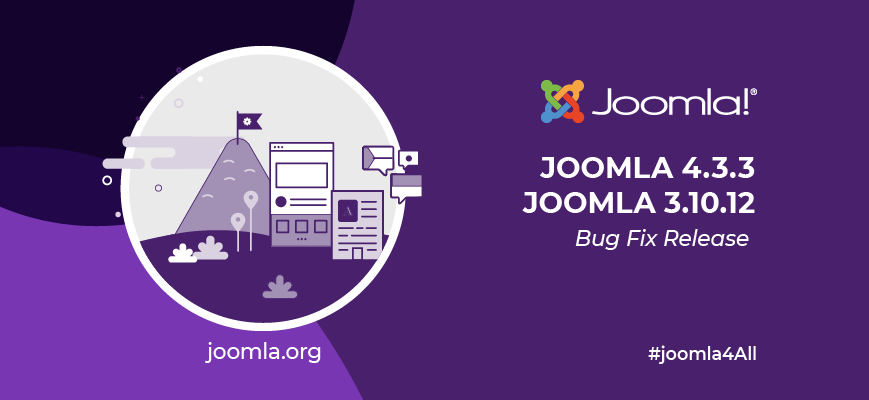 リリース日:2023年7月11日
リリース内容:Joomla 3.10.12バグ修正 & 4.3.3
Joomla 3.10.12 Release FAQを参照してください。
Joomla 4.3.3アップデート内容
Guided tours
Missing menu in alternate menu preset
Missing note search in search fields
RSS feeds
Remove html entities from the title.
Menus
'Create article' menu item should not be saved if 'specific category' is enabled and no category has been selected.
Quickicon
Language quickicon should link to the language page.
Do not show the Quickicon if the associated component is inactive.
Joomla Update
Fix URL of Joomla update Help button.
Templates
child templates: the /media folder should always show, even if no media file or folder is present
UX/UI
pagination counter hidden behind pagination on mobile
text button should remain visible when focus
Media Manager
better cache invalidation (ff there's a modified_date use it (as unix timestamp) else fallback to the existing mediaversion)
consider path variable (regression fix)
Debug
Failed tasks when debug is turned on (sample data installation, json output, quickicons)
The full list on GitHub is here https://github.com/joomla/joomla-cms/milestone/106?closed=1
ダウンロード先:
既存Joomla 3.xユーザーの方
サイト管理画面にログインしてJoomlaシステムの更新アイコンをクリックしてシステムの更新をして下さい。
システムの更新をする前に、必ず、現在のシステムのバックアップ(DBを含む)をして下さい。
新規ユーザーの方
Joomlaじゃぱん(http://www.joomla.jp)で日本語版パッケージがダウンロードできるようになりましたら、そちらから最新システムをダウンロードして下さい。